About

Multiplication Table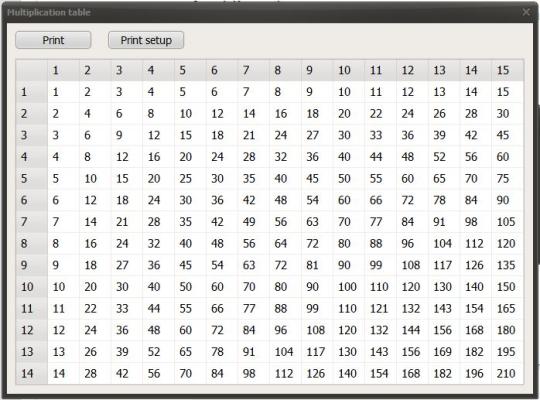 Learning your multiplication tables may have been fun when in elementary school, but with more important things to do, it can be an incredible drag. These days, if you want to be successful, it is best to spend your time wisely and efficiently. This multiplication table software was designed to help you be more efficient without needing to remember your multiplication charts.
In this day and age, there is no reason why multiplication tables should be memorized. The computers and technology that has been developed over the past few years has made it possible for people to focus on their work and less on simplistic mathematic tasks.
The best part about this multiplication table is the ease of use for anyone who is not knowledgeable with computers. Most software programs can be difficult to get used to, but multiplication tables are so straight forward that there is almost nothing to be worried about. If you can click a few numbers of view a quick chart, you'll be able to get the mathematic answers to your questions extremely quickly.
Another important aspect about math in the modern world is accuracy. Even though you may still remember how to do multiplication tables, that does not mean that you know how to do them right. Getting the right answer could mean the difference between losing a lot of money. If you want to do it the right way, it is important to have a reference that is never going to lie to you. Sometimes people make mistakes, but an online multiplication chart is not going to make the same kind of silly mistakes that you might.
At the end of the day, it is safer to use multiplication tables online and it will help to save you a lot of time that you can spend at work instead.